By looking at the potential menus coming to Catered Affairs created by Master Chef Natalie Castellas, you will sense a post-lockdown, 'let's get this party started' energy to the food she is offering.
"Right now, it's action stations. People I cater for aren't looking for big, heavy sit-down dinners; they want mingling with small plates, hors d'oeuvres—they want more variety in smaller bites, with bigger flavours."
"People are looking for exciting food now; something different. The whole comfort food thing reached its peak during the pandemic and it's gone away," says Castellas. She is excited to show clients her unique and diverse palate that is, she notes, based off of her parents' Middle Eastern and Caribbean traditions.
"Growing up, we always had big family parties, with lots of different flavourful foods. I have a very versatile palate, and in my business I just combine that with having an understanding of what people like and how to present it," she explains.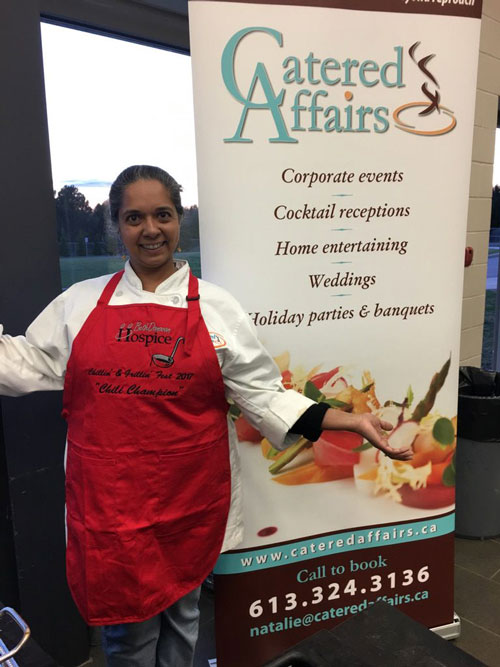 Classically trained in culinary arts at Toronto's George Brown College, Castellas' parents were entrepreneurs and encouraged her to go out on her own to apply her chef skills. She has owned and operated her business, Catered Affairs, for 15 years now, and it is her 4th year operating out of the commercial kitchen in Heritage Hall on the Kemptville campus.
Castellas says that when she is creating menus, she is in her happy place. She keeps in mind different themes, available local produce, and any special requests of her catering clients. Another goal of her business is to create food-centric, fun events and celebrations that bring her clients and community together. Especially after two years of uncertain public events due to COVID-19, Castellas is pleased that she will be serving people face-to-face once again.
Castellas loves being a part of—and providing meals for—people's special occasions. This includes her Easter turkey dinners, where she goes through 2,000 pounds of turkey every year and countless requests for more stuffing. In May, she hosts a Mother's Day brunch, and year-round she caters baby showers, celebrations of life, birthdays, and weddings. In the warmer months, she sets the scene under the stars and creates special patio nights. "I love those summer evenings," she says. "We had them last year and they were always packed. People really like to socialize outdoors."
This February, she has welcomed bookings for her Valentine's Day dine-in event.
"I'm very happy that this year, we are hosting the first Valentine's Day dinner that we can serve in-house. We're doing it up beautifully, and along with delicious food you get the music of Bruce Enloe for the evening."
The menu will be offered for curbside pick-up as well, a community service that Castellas has become used to over the course of shutdowns and social distancing. However, the chance to create her own in-person dining event is a personal treat: "Just a walk onto the Kemptville campus in the snow is pretty romantic to begin with, but people can bring snowshoes and make an evening of it, or take a winter's eve stroll around the grounds, among the century-old college buildings and trees."
There were three main dishes to choose from on the Valentine's Day dinner menu, and one in particular that the chef really looked forward to preparing.
"I'm excited about the duck," smiles Castellas. "I've been wanting to cook it for people for a while. I brine it, spice it, it'll have a nice, crisp skin. Not many people make duck or know how to prepare it at home."
How would a Master Chef answer the impossible task of choosing a favourite dessert? Castellas has many favourites, but, she says, "I make a mean crème brulée."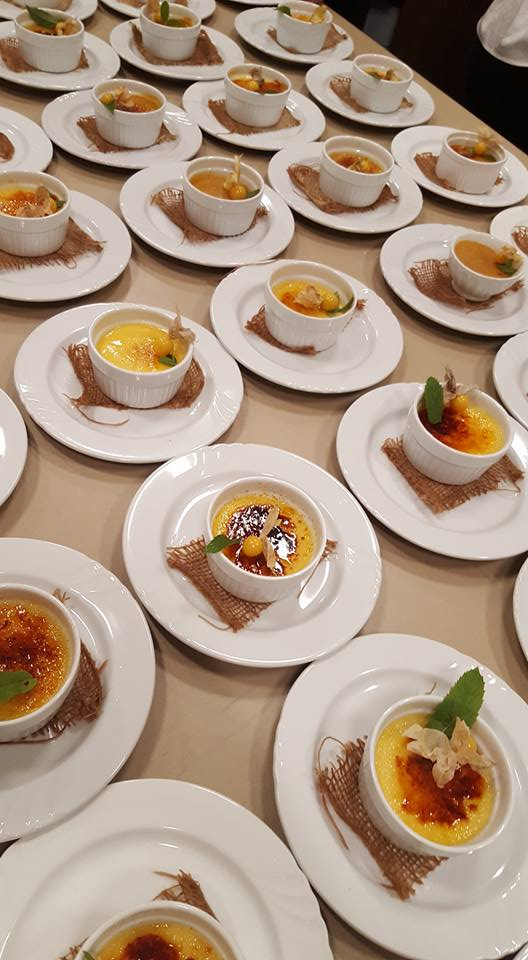 Even with years of experience, a chef is always learning. Chef Castellas travels to catering conventions for inspiration and to participate in the energizing brainstorming that happens when you are among your professional crowd.
Currently, she is learning a new type of cooking just to satisfy her own questing palate. She loves to eat traditional Chinese food, and says she is "enjoying trying to learn the little finicky techniques that the Chinese grandfathers are often doing in the back of the restaurant—I'm learning to cook that way at home."
For those who want to create a memorable dining experience in their own home, Chef Castellas simply advises that food be the catalyst to show you care.
"If you get take-out or curbside to celebrate a special day, candles are always good to set the scene, soft lighting—but really a special meal is about not having to work at it. You enjoy it. It doesn't have to be fancy-fancy; sometimes simple is best when it's prepared well," says Castellas. For home cooks, "it can be simple, but if it's one of the classics, prepared well, that's special. That means no sauces out of jars. Made from scratch, made with love."
---
For media inquiries, please contact:
Marta Zwart
Marketing and Events Coordinator
Kemptville Campus
mzwart@kemptvillecampus.ca