Beyond just being in every Canadian household, for many, maple syrup and its production is an exciting tradition. Just tucked in the forest off Bedell Road, the sweet tradition continues at the Kemptville Campus Agroforestry Centre. From tree-tapping to the sweet result, the whole production is run by passionate volunteers that keep it producing award-winning maple syrup. Especially right now, the place is hopping because it's maple sugaring season!
Kemptville's Maple Weekend is from 10 a.m. to 4 p.m. on Saturday, April 1st and Sunday, April 2nd. Free guided tours are offered to introduce you to the innovative reverse-osmosis process of making syrup from sap. You can enjoy a pancake breakfast, sample maple taffy and maple cotton candy, and celebrate the beauty of the maple sugar bush, while listening to live music and joining in on some fun outdoor activities.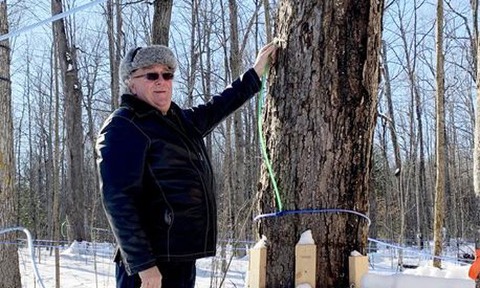 Karen Bedard loves this forest. She's a volunteer with On the Bend Sugar Shack and the Kemptville Campus Agroforestry's maple sugar bush. During Maple Weekend, she'll welcome you to the woods along with Frank Heerkens, a long-time maple syrup producer, and president of the Ontario Maple Syrup Producers' Association. Bedard says there's a deep satisfaction in understanding the details of how maple syrup is made and the history behind it. Maple syrup was the earliest agricultural crop produced in Ontario and was first discovered by the First Nations' people of eastern North America.
"We have to remember it was one of the very first products made in Canada and Ontario, as a means of sustenance; of getting sugar. And more than that, I think it's important to understand and respect what the trees are giving us. It's a real stewardship, and it requires a great respect for each other," says Bedard.
Bedard hopes visitors to the sugar bush will feel a sense of history and pride as they spend some time among the trees, maybe taking some time to hike on the six kilometres of trails that run through the historic campus' 630 acres.
The maple sugar bush is its own little specialized world: 20 acres of distinct sugar maples within the larger 315 acres of forest on the campus lands. The maples were planted in 1911, managed the sugar bush since 1917, and started tapping in 1971. Sugar maples have to reach about 45 years old before you can tap them.
Fast facts about the maple sugar bush:
The trees are tapped and sap runs in blue plastic lines right into the boiling hut with the help of a vacuum system.
There are 1162 taps on 20 acres of trees.
Last year's sugaring season was a boom: the weather was so optimal that on one overnight, 1700 imperial gallons of sap were collected!
It takes 40 gallons of maple sap to boil down into 1 gallon of maple syrup.
The Kemptville Agroforestry sugar bush produced 310 gallons syrup last year, which took 13,000 gallons of sap.
Last season's syrup was award-winning. It took first and second place in various categories at the Chesterville Fair.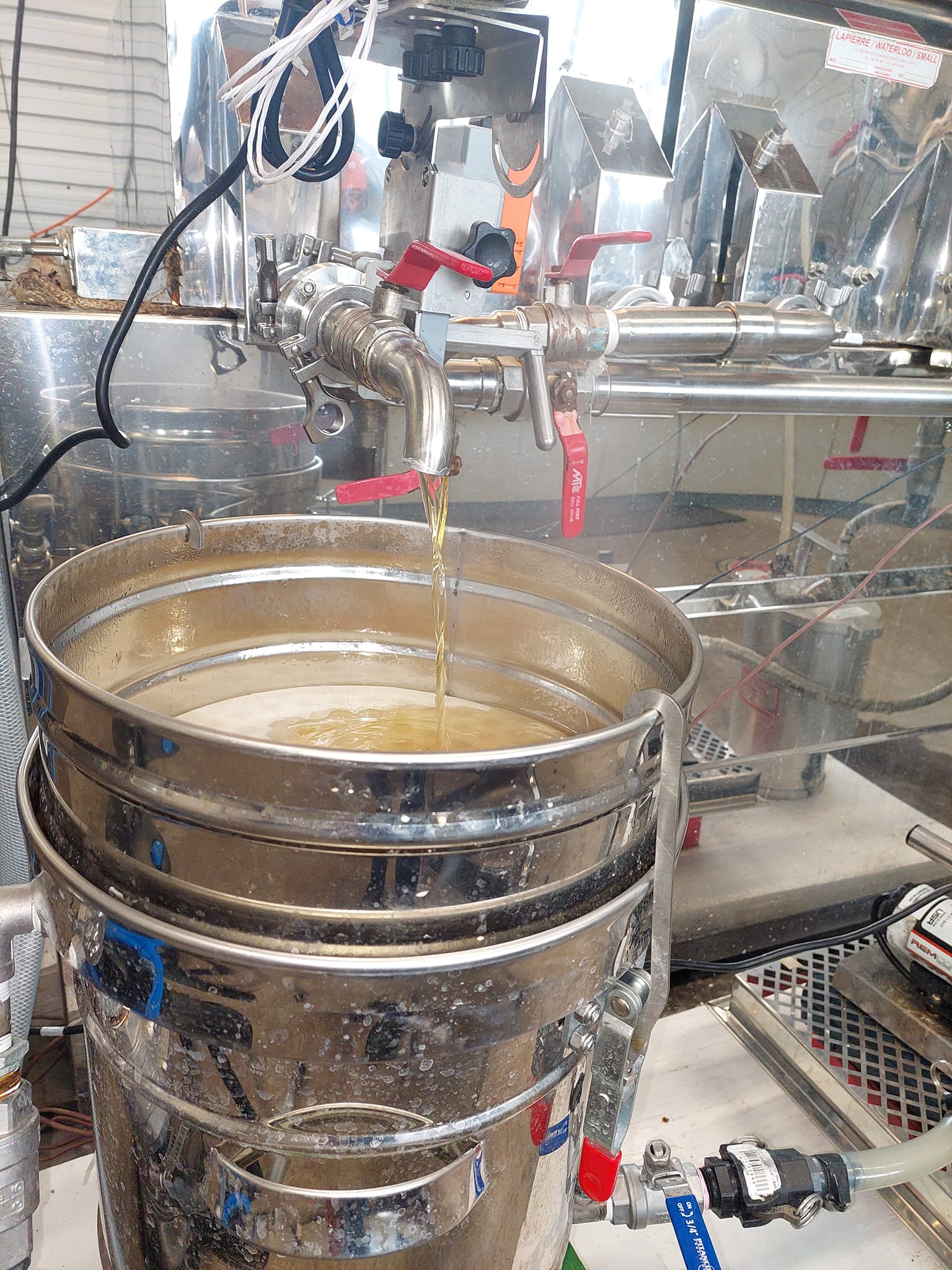 Like many larger-scale professional maple sugar producers, reverse osmosis is used in the production of syrup on campus. This process removes up to 50% of the water in the maple sap, before the sap is boiled. That saves on fuel—be it firewood or diesel—and saves precious time.
But Karen Bedard says there's another benefit to the reverse osmosis process: "You can taste the difference in the final product, but also beforehand, in the concentrated sap, and even the water left after producing syrup. It wins awards, for clarity, taste, and sugar content."
Maple Weekend is a great chance to get active outdoors and feel invigorated, and, of course, to enjoy a delicious pancake breakfast. It's a community event, and the pancakes and syrup aren't the only sweet part—all money raised will go to the Kemptville Rotary Club and the Kemptville Youth Centre for their after-school programming. Community members from both organizations will be flipping the pancakes!
Pancake breakfasts will be booked in advance on the Eventbrite page.
---
VOLUNTEERS needed in the maple sugar operation!
Asking for active community members to help with tapping, production, and teardown.
"Being a volunteer and spending time in the sugar bush, you experience a sense of peace being out there, a sense of fulfillment. You don't necessarily have to have a particular skill set, it's just being willing to work during this busy season. And what you do is going to affect the outcome of the forest – all of the salamanders, snakes and creatures that live there, as well as the health of the trees and the production of syrup." ~ Karen Bedard, Volunteer
---
For media inquiries, please contact:
Marta Zwart
Marketing and Events Coordinator
Kemptville Campus
mzwart@kemptvillecampus.ca