In May and June there were over 125 kids enrolled in the Kemptville Jags' Spring flag football season. It's new, it's growing, and it's due to the hard work of Jason, Jess and their team!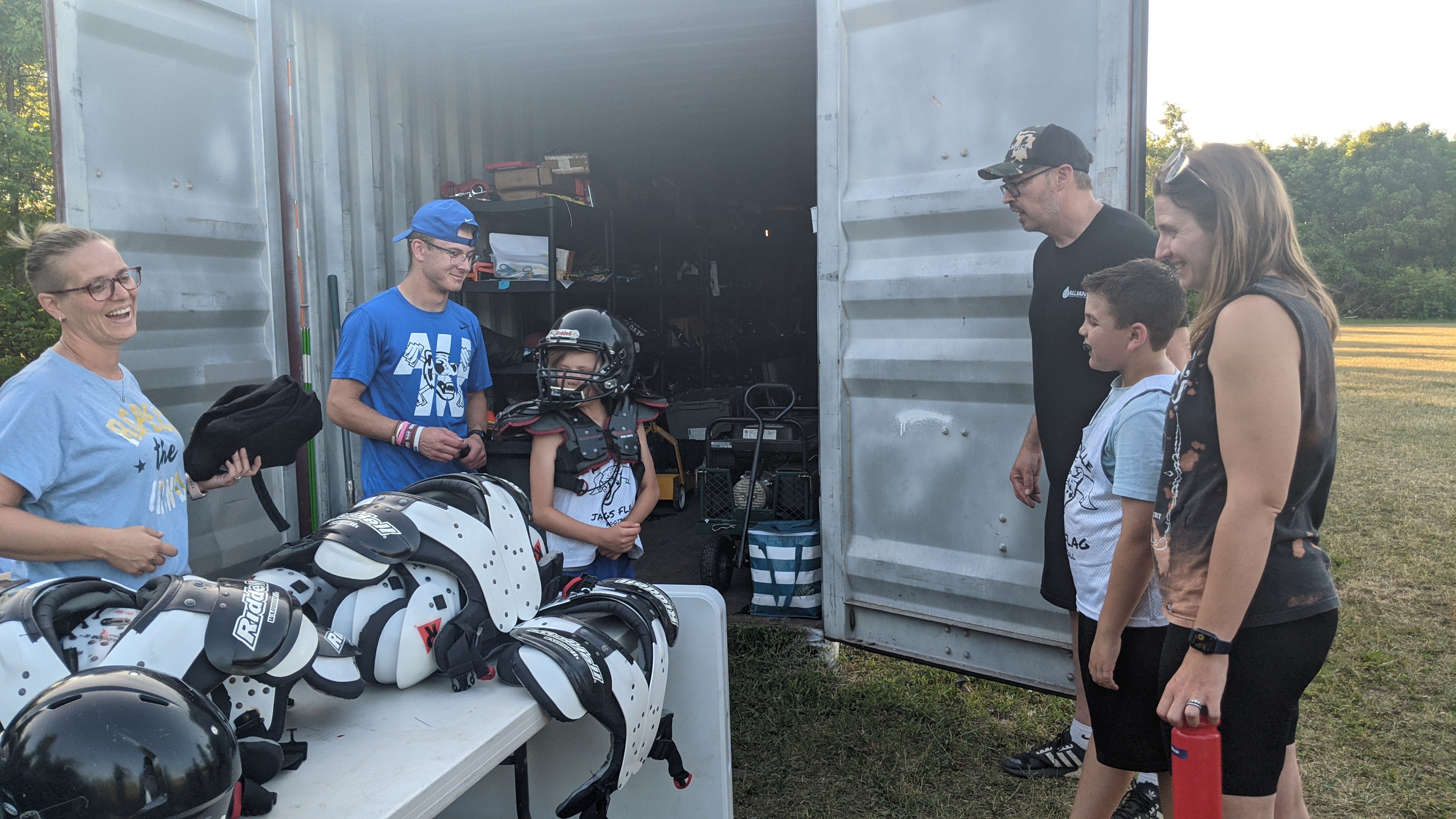 When you see Jason Kirkbride and Jess Beairsto at the side of the field, you know they're lifelong athletes: they're active, they're engaged, and they're always smiling. Surprisingly though, this couple is pretty new to the whole football thing. They each had other allegiances and other sports they were passionate about: Jess is a figure skater who loves softball and baseball; Jason is a soccer coach from way back and has always been into hockey.
Jess and Jason now lead the Kemptville Jaguars Football club, and here's how they got hooked: their son made a switch from baseball to tackle football last year - a surprise for his parents - and he fell in love with it. His enthusiasm was contagious and very quickly, the whole family was all-in.
Last year, when the president and vice-president of the Kemptville Jaguars decided to step down, Jason and Jess were so happy to see their son into a new sport that they decided to go for it, and took on the leadership of the club, Jason as President and Jess as Vice-President.
Standing next to them at the side of the field, listening to the kids yelling and hooting and laughing, you can see the pride spread across their faces as they encourage and cheer for these young players.
"It's very satisfying to get these kids out. They're moving and being active," says Jason.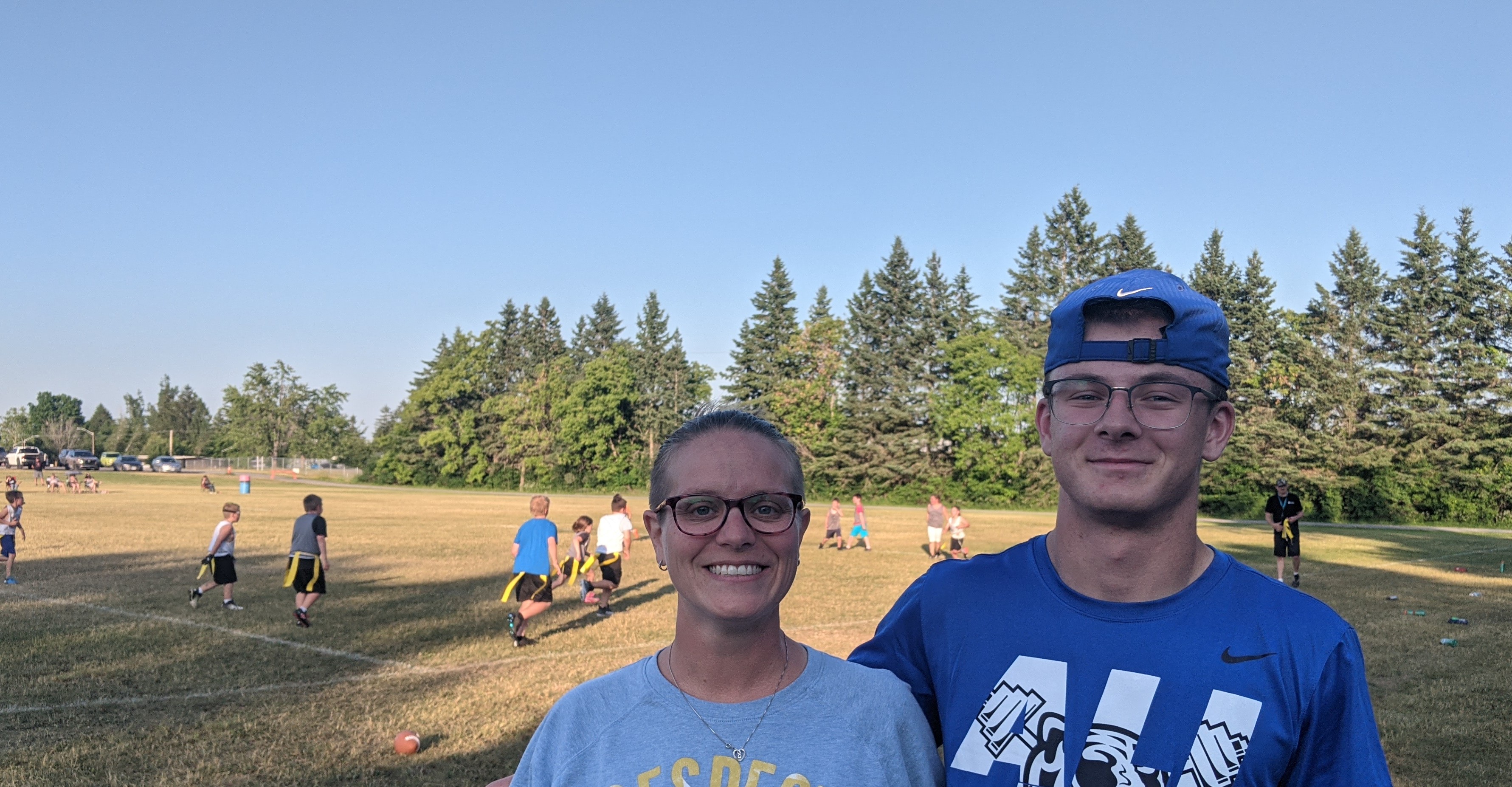 Flag football is new to Kemptville. As Jess puts it, they're "going with the times". Flag football has exploded across the Ottawa region, with over 1800 young players signing up to run around and NOT tackle each other. Instead, they use all of the speed, footwork and agility to race after the kid with the football and be fast enough to snatch away a bright strip of fabric that's held onto a belt with velcro. It's like tag, and it's not intimidating for new players, observes Jess. Then there's the main driver for the expanding leagues of flag football in Canada - it's a wise way to prevent youth concussions and still experience football's intensity and fun.
The Jaguars still run their popular tackle football program for older kids. This year Jason and Jess are running a U10 (kids under age 10), a U12 and a U14 group. They've got a few spots still left open for this season, but they're closing in on their maximum roster of 80 players. As with any summer sport in Kemptville - soccer and baseball and softball are well-established and hugely popular - the vibe on the sidelines is relaxed and fun. Parents chat and laugh, sip coffee and cheer when one of the eight-year-olds catches the football and makes a run for the end zone. So if the parents of the wee ones get the benefits of flag football, watching their kids get fresh air and exercise while avoiding smash-ups, injuries and concussions, what do the kids get out of it?
"It's the friendships. Yeah, the friendships that are being made, it's so many different schools here. You have Kemptville Public, South Branch, Holy Cross, Oxford on Rideau, and both French schools [Académie Catholique Notre-Dame, École Rivière-Rideau] here. [This league has] kids from different schools coming together and making new friends within their community. They get to be themselves. They're just Jake or whatever," says Jess.
You can find the schedule for the Jags' season at kemptvillefootball.com. The Kemptville Jaguars run their football program over the summer and finish in October.
"It's great," says Jess, "because those kids that play hockey, even though it overlaps a little bit, they can still play both. We work with the hockey families because we know how much the kids want to be both places. Kemptville is very hockey-oriented!"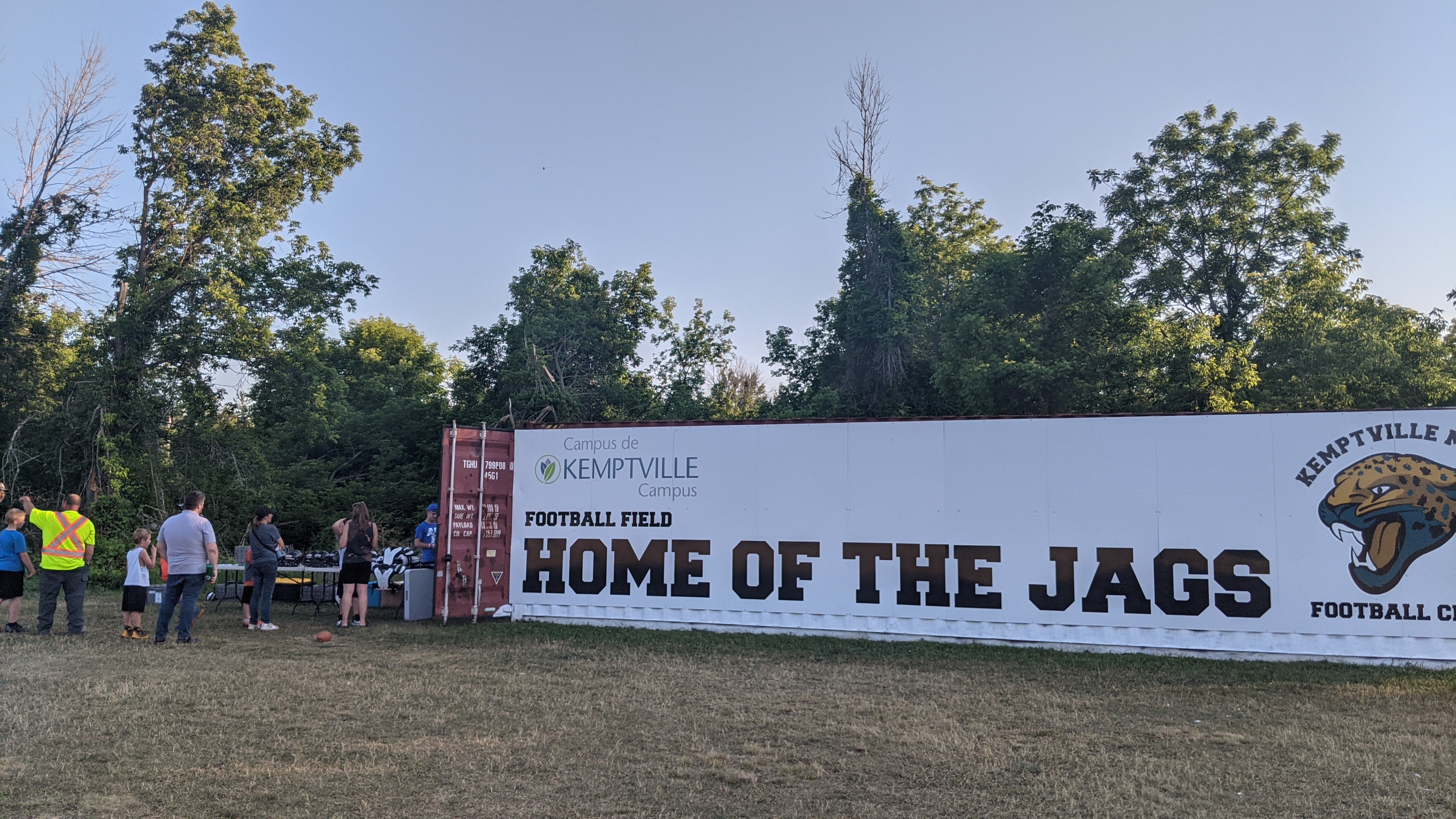 The best part of the commitment that Jason and Jess have made, of the hundreds of hours they spend scheduling, chalking lines on the field, and sorting equipment, is when they get to watch the kids on the field.
"If I can be at every game, I will," says Jess. "There's something about youth playing football that is exciting. It's really neat to see. They're really learning to strategize, and learning how their bodies work and move, and what they can do with them. So, I don't know, I've got the bug. I would never have thought I'd be a football mom." She laughs, and then just as quickly looks out to the field and shouts, "Go, go, go! Yes!"
Kemptville Campus is working with many local organizations, including Kemptville Minor Football, to build an active, welcoming community space that reflects the Campus pillars: Health and Wellness, Education & Training, and Economic Development. From arts and culture, to science and sports, there is a lot to experience on the beautiful campus grounds!
---
For media inquiries, please contact:
Marta Zwart
Marketing and Events Coordinator
Kemptville Campus
mzwart@kemptvillecampus.ca