New Campus Board Chair Announced
After an extensive search, North Grenville's Council has appointed Ms. Karen Cooper as the new Board Chair of the Kemptville Campus. She will succeed Mayor Nancy Peckford who has served as Chair of the interim Campus Board for the last two years.
"On behalf of Council, I wish to congratulate Ms. Cooper in her new role as Board Chair for the Kemptville Campus," said Mayor Nancy Peckford. "I am very confident that the Campus will be in good hands under her leadership,"
"Ms. Cooper's expertise in corporate governance and experience on previous boards in our community is an invaluable asset as the Campus continues to evolve as an exciting community and regional asset with enormous potential for the future."
Ms. Cooper practices charity and not-for-profit law with an emphasis on corporate and tax issues with Drache Aptowitzer LLP. Ms. Cooper also served as Chair of the Board of the Kemptville District Hospital and Big Brothers Big Sisters Ottawa. She has lived in North Grenville for over 20 years and is fluent in both French and English.
"I am thrilled to accept the Chair position of Kemptville Campus Board and look forward to applying my professional skills to support the development and growth of the organization to its full potential," added Ms. Karen Cooper.
"We look forward to the new leadership and vision that Ms. Cooper will bring to Kemptville Campus, as it transitions into this next phase of governance," said Deputy Mayor Jim McManaman.
Ms. Cooper's new position as Board Chair will be formally acknowledged at the March 18 Campus Board Meeting and she will assume responsibilities effective immediately. A call for application for up to 8 Board positions will be released shortly, and members of the public are encouraged to apply.
Read the full press release.
Master Plan Update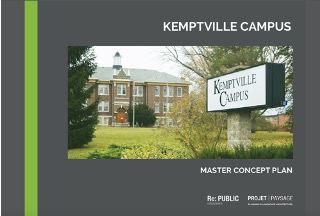 After two public consultations, and input from the Master Plan Advisory Board, and other community stakeholder groups, the Campus is pleased to report that the Final Master Plan is complete and now posted on the campus website.
A summary of the Master Plan is also available in French.
"This is a significant accomplishment," stated Board Chair and North Grenville Mayor Nancy Peckford.
"The Campus Board wishes to acknowledge and thank the many community members who eagerly participated in this exciting planning exercise."
"A special thank you to planner Paul Hicks of Re:Public Urbanism and his team - Projet Paysage and CIMIA+, for their professionalism, collective expertise and continued commitment to this project," said Pat Rémillard, Project Manager for the Campus. "The Master Plan process was very well executed, and the final report is exceptional; we are most grateful for their efforts."
"This important project has taken over a year to complete, during very unusual times," said Campus Board member and Deputy Mayor Jim McManaman. "As one of the last acts of the current Board, it feels good to have a document to guide the Campus towards the future."
In terms of next steps, the Campus Board will be meeting with Paul Hicks later in March to initiate planning discussions for the first phase of the Master Plan implementation. Please stay tuned for further updates.
Kemptville Live Music Festival Launches Live at the Library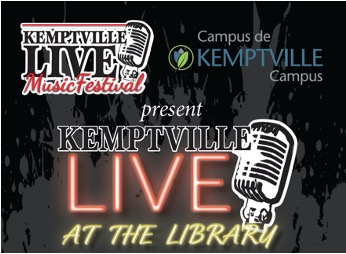 Kemptville Campus is pleased to partner with Kemptville Live Music Festival to present an innovative concert series called Live At The Library. Filmed at the former Campus Library in the historic Purvis Hall (1919), the concert series will present free streaming of 12 episodes to be aired every Thursday evening and two Sunday evenings at 7:00pm EST.
According to Live at the Library coordinator Karen Bedard, "The project is intended to provide community cultural impact and an opportunity for a little bit of music therapy for our audience, artists and industry partners in these unsettling times." Performers include Juno Award winning MonkeyJunk, Silver Creek, Rick Fines, The Angelina Hunter Trio, Tyler Kealey, Keith Glass, and many more.
"On behalf of the Municipality of North Grenville and Kemptville Campus, it's my absolute pleasure to welcome you to Kemptville Live's new online series, Live at the Library", said Mayor Nancy Peckford recently in a video. "It's a wonderful opportunity to stream some amazing music, to support our fantastic local music festival, Kemptville Live…So, let the good times roll, sit back and enjoy some great music."
For the full artist and show details, visit the webpage at:
https://www.kemptvillelivemusicfestival.com/live-at-the-library
CDSBEO Running Two Successful Programs on Campus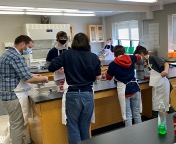 St. Luke Catholic High School staff and students are making great progress despite the many challenges they have faced over the last year. This CDSBEO school, located in Smiths Falls, caught fire last July and quickly relocated some of its courses to Kemptville Campus in September. The school offers two Specialist High Skills Major (SHSM) programs: Hospitality and Tourism and Construction. Facilities had to be quickly constructed to accommodate the types of equipment required for these specialized programs.
The Hospitality and Tourism program allows students to build knowledge and skills related to this sector with a hands-on approach. Students participate in experiential learning opportunities and industry certifications that will help prepare them for post-secondary programs, apprenticeship or the world of work. A kitchen facility was created in the former science lab on campus to allow students to practice the skills required in planning, preparing, and serving.
In the Construction program, students gain practical knowledge and skills in Architectural Design, Carpentry, Electrical, and Heating and Ventilation. Cooperative Education placements and reach ahead opportunities with industry professionals are valuable components of the program. Currently a team-taught dual credit is running in conjunction with Algonquin College. Here students obtain a high school credit and college credit at the same time. The St. Luke teacher partners with an Algonquin college instructor to deliver the content of the program. For more information or if you have questions related to SHSM programming you can go to www.stluke.cdsbeo.on.ca or www.CDSBEO.on.ca.
Agroforestry Update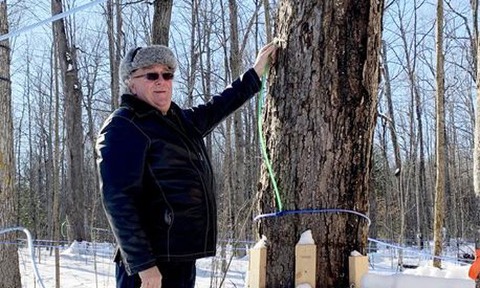 Campus Sugar bush operator Frank Heerkins has been busy supervising the installation of new maple syrup tubing in the Campus's Maple bush preparing for this spring's harvest. Frank's activities were featured recently in an article written by Local Journalism Initiative Reporter, Heddy Sorour.
For those looking for unique tasting, authentic Campus Maple Syrup, it is now for sale locally at the B&H Grocer in Kemptville, and through My Local Markets.
North Grenville COVID Assessment Centre Running Smoothly
As the province begins to roll out its plan for vaccinating the population against COVID-19, the North Grenville COVID Assessment Centre (NG CAC) has made some adjustments to its operations. The Centre, open in the Campus's Bell Hall since late September, will continue to be an assessment and treatment centre for those looking to be tested for the COVID-19 virus, but is requesting the public to please book an appointment online.
"We're trying to get the word out – please, go online and book your appointment, and if you can't manage the online, just call us and we will book your appointment," said Dr. Suzanne Rutherford, Medical Director of the Centre. "The online system is working very well and very easy to use. I would say 80% of appointments are booked online."
Vaccination is also happening in North Grenville right now. "There's a very strict roll out plan set out by the province – priority groups: who's going to get the vaccine and in what order," explained Dr. Rutherford. "And it is the Public Health Unit who is executing that roll out plan."
The first wave of vaccinations will be provided to front line health care workers – those who care for COVID patients and Long Term Care staff. This group will be followed by emergency service workers: police, fire fighters, paramedics. When these are complete, the program will expand to include 80+ year-old seniors in the community. The roll out will happen over the next few months.
Details of the vaccination roll out in Lanark, Leeds & Grenville can be found on the Public Health Unit's website. Plans are underway to establish a Vaccination Centre at the North Grenville Municipal Centre. Since vaccination is by invitation only – serving the population according to the provincial roll out plan – visits will only be made on a pre-scheduled basis.
Meanwhile, the Assessment Centre at Kemptville Campus will remain open. "If you have COVID symptoms you go to the Assessment Centre," reminds Dr. Rutherford. "And if you are worried and you feel that you need a physician to see you for your symptoms, there are also physicians there to assess you and treat you."
"The Vaccination Centre will be where you go when invited, to get your vaccine. We're keeping the two centres separate so we can handle increased volumes at each location," stated Dr. Rutherford. "Obviously, it will be great when everybody is vaccinated, but that's going to take some time."
Other Campus News
The Campus Greenhouses are open again, offering several workshops this spring. Under the supervision of greenhouse manager and former Kemptville College Horticulture manager, Claude Smith, the greenhouses will continue to be open twice a week to the public (Tuesday and Thursday, 2 – 4pm), as long as it remains in line with pandemic restrictions. Claude hopes that uses for the Campus' greenhouses will keep growing and expanding, and she is open to any suggestions from the public. Claude may be reached at claude431@cogeco.ca.
My Local Markets continues to expand their online local product offerings, with free delivery in our local area. Catered Affairs continues to offer their weekly take-home specials, with the menu changing every week. For the latest offerings, please visit the Catered Affairs take out site.
New on Campus is Wellington Kids, offering speech and occupational therapy services that meet the needs of both the child and the family. Also new to the Campus is Proteins Easy, who develop value-added proteins using plant-based solutions.
The Campus administration offices are still closed to the public, however staff are available by appointment and reachable via phone and email on the Campus website. For the status of other organizations on Campus, please visit their websites.
Contact:
Campus Communications: Tom Graham, TD Graham + Associates
Cell: 613-882-3885
E: tdgraham@tdraham.com