Items filtered by date: October 2020
Thursday, 19 November 2020 09:38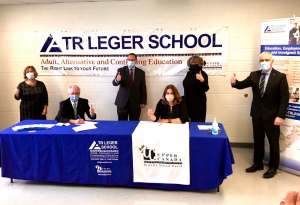 As an important first step towards establishing the Level 1 Commercial Vehicle Apprenticeship Program announced last month, Kemptville Campus Education and Community Centre signed a lease agreement with the Upper Canada District School Board (UCDSB) today.
The training program is set to kick off next Fall, and will build on the existing adult education opportunities established by the UCDSB at the Kemptville Campus, primarily through the T.R. Leger School of Adult, Alternative and Continuing Education. The program is expected to address a growing local and provincial need for skilled trades workers. The Campus was recently approved by the Ministry of Labour, Training and Skills Development as a Commercial Vehicle apprenticeship training delivery agent. The UCDSB is leading the program's creation and delivery that will involve, and ultimately serve, all four regional public school boards.
"T.R. Leger has been located on Campus for many years, and this new facility will enable them to expand their program offerings," expressed Campus Board Chair and North Grenville Mayor Nancy Peckford. "This is a significant partnership development for the campus – the leadership role the UCDSB is taking is assisting the Campus in realizing our education pathway plan to bring adult education and trades training back to the Campus."
"We're excited by T.R. Leger's expanded footprint on the Kemptville Campus," says UCDSB Board of Trustees Chair John McAllister. "Today's signing establishes our physical presence in this existing school and training facility, and it will allow us to move forward to support students with community-based learning and trade certifications. This approach certainly aligns with what we know are emerging priorities of local municipalities and County Councils."
This program will allow full-time adult students and high school students to gain experience and Level 1 training in Truck and Coach Technician, Heavy Equipment Technician, and Agricultural Equipment Technician through the Ontario Youth Apprenticeship Program (OYAP).
"We are grateful to the Ministry for their support, to our industry stakeholders who are already stepping up – and to the UCDSB for taking on this initiative," concluded Peckford. "I am confident that our strong partnership is capable of developing truly innovative programming."
The programs are scheduled to begin in September 2021 under the Ontario Youth Apprenticeship Program (OYAP) and will be offered in both official languages.
---
Contact:
Campus Communications: Tom Graham, TD Graham + Associates
P: 613-258-3885 E: tdgraham@tdgraham.com