Items filtered by date: September 2020
Friday, 23 October 2020 14:04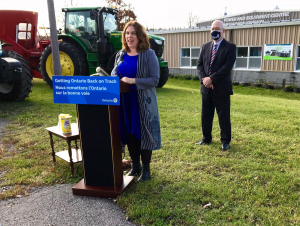 A select number of secondary school and adult education students will soon have the opportunity at Kemptville Campus to receive focused training for careers in high-demand skilled trades, Leeds-Grenville-Thousand Islands and Rideau Lakes MPP Steve Clark announced today.
On behalf of Labour, Training and Skills Development Minister Monte McNaughton, Minister Clark announced the Kemptville Campus Education and Community Centre has been given approval to provide Level 1 foundational training in the following trades:
Truck and Coach Technician
Heavy Duty Technician
Agricultural Technician
The province is providing funding to allow the Campus to offer approximately 20 seats in the programs, said Clark, who was joined at the announcement by North Grenville Mayor Nancy Peckford and representatives from the region's four school boards.
"This announcement represents a significant evolution in the role that Kemptville Campus will play in the education and economic development sectors in our region," said Board Chair and Mayor Nancy Peckford.
"We've been working closely with Minister Clark's office and would like to recognize the province's commitment to advancing this goal. Deputy Mayor Jim McManaman and I want to also sincerely thank all four school boards for their collaboration and enthusiasm to work together on this initiative. With strong relationships – and the support of industry partners – we will once again be able to deliver much needed skills training to our youth from Eastern Ontario right here in at Kemptville Campus," added Peckford.
Kemptville Campus has been delivering educational programs for over 100 years. The last trades training courses were delivered in 2016. The Municipality of North Grenville purchased the Campus from the province in 2018 with a mandate that includes promoting innovation and business incubation, and sustaining and growing opportunities for agricultural education.
"Today is another big step forward in the revitalization of the Kemptville Campus. I'm so pleased that our government has recognized the need to give students from Eastern Ontario the opportunity to train for a career in the trades close to home – as they have done here for generations," said Clark.
"I want to thank Mayor Peckford and the Municipality of North Grenville for their advocacy to deliver these important programs and to Minister McNaughton for his support. This is not only great news for students looking to chart a path in a rewarding career, but for local employers desperate for skilled workers."
The programs are scheduled to begin in September 2021 under the Ontario Youth Apprenticeship Program (OYAP) and will be offered in both official languages.
Tuesday, 06 October 2020 15:34
On Wednesday, October 7, 2020, the North Grenville COVID-19 Assessment Centre (NGCAC) in Kemptville will be transitioning to a full assessment and treatment centre while also changing its hours to 9:00 am to 5:00 pm for added convenience.
As a full assessment and treatment centre, the NGCAC will provide assessment by a physician, testing, and treatment for respiratory illness, if required. Patients will be able to access the centre on their own if they meet provincial eligibility requirements, and can also be directed there by their family doctor's office.
The NGCAC will continue to be open Monday to Friday but is changing its hours from 7 am – 3 pm to 9 am – 5 pm so that it will be able to see more patients. By taking into account family doctors' office hours, the centre will be able to accommodate patients directed there by their family doctor's office on the same day. Extending the hours to 5 pm also makes it easier for people coming to Kemptville from Ottawa and the surrounding area to be tested.
"The ability to offer treatment for suspected COVID-19 patients in addition to assessment was always part of the plan," said the NGCAC's clinical lead, Dr. Suzanne Rutherford.
Dr. Rutherford is a family physician at Rideau Crossing Family Health Centre in Kemptville and the driving force behind the NGCAC. She has been working closely with her co-lead, Frank Vassallo, the CEO of Kemptville District Hospital (KDH), as well as the other partners in the community-based collaboration: the Leeds, Grenville and Lanark District Health Unit, the Municipality of North Grenville, and the Leeds Grenville Paramedic Service.
"I believe we need this treatment service now more than ever as the new school screening guidelines weigh heavily on 'speak to your healthcare practitioner' to direct them on whether a test is needed or not," added Dr. Rutherford.
"Furthermore, adding this service to the NGCAC will help ensure that people get the treatment they need for respiratory illness, while helping keep Emergency Departments available for other emergencies," she explained.
The NGCAC opened on September 24, 2020 and has been operating very efficiently, according to Vassallo. "With our appointment-based 'time pass' system, we are able to see a large volume of patients every day. The system was designed to effectively screen patients, manage capacity and provide safe and ethical access to testing. With our system, we also have the ability to scale up or down quickly by adjusting our hourly rate of patients tested depending on community demand, a localized outbreak and/or Ministry guidance."
On behalf of all the partners, Vassallo expressed thanks to the KDH Foundation, which has purchased the equipment necessary for the transition to a full assessment and treatment centre. "This speaks to the generosity of the North Grenville community, which continues to show its support through the KDH Foundation for healthcare workers in their ongoing fight against COVID-19," he said.
"The Assessment and Treatment Centre will provide increased capacity in our community in response to potential exposure of COVID-19, and we thank all those who have gone above and beyond to make this centre a reality," said North Grenville Mayor Nancy Peckford.
Fast Facts about the North Grenville COVID-19 Assessment Centre
Location: 15 Campus Drive (Bell Hall on the Kemptville Campus), Kemptville, ON
Hours: Monday through Friday, 9:00 am to 5:00 pm beginning October 7, 2020
Who can be tested: Provincial guidance released September 24, 2020 states that people in Ontario should only seek testing at assessment centres if they: are showing COVID-19 symptoms; have been exposed to a confirmed case of the virus, as informed by their public health unit or exposure notification through the COVID Alert app; are a resident or work in a setting that has a COVID-19 outbreak, as identified and informed by their local public health unit; and are eligible for testing as part of a targeted testing initiative directed by the Ministry of Health or the Ministry of Long-Term Care. For details visit covid-19.ontario.ca
How it works: visit the KDH COVID-19 Assessment Centre.
About the North Grenville COVID-19 Assessment Centre
The North Grenville COVID-19 Assessment Centre is a community-based collaboration of five partners: Rideau Crossing Family Health Centre; the Leeds, Grenville and Lanark District Health Unit; the Municipality of North Grenville; Leeds Grenville Paramedic Service; and Kemptville District Hospital. The Assessment Centre is located at 15 Campus Drive (Bell Hall on the Kemptville Campus) in Kemptville, Ontario. The Centre is open Monday to Friday from 9am to 5pm beginning October 5, 2020. The partners designed the centre to be as efficient as possible, to minimize wait times for patients and families, and to minimize disruption on the Kemptville Campus, which is home to several schools and other organizations.
---
For further information contact:
Jenny Read, Communications Officer
Kemptville District Hospital
O: 613.258.6133 x 223 | C: 613.914.0195
Email: jread@kdh.on.ca